Access to Scarborough Beach and Foreshore
Metropolitan Redevelopment Authority & City of Stirling
Taylor Cullity Lethlean (TCL)
UDLA
Scarborough Beach, Western Australia
Ensuring accessible access to one of WA's iconic beachside locations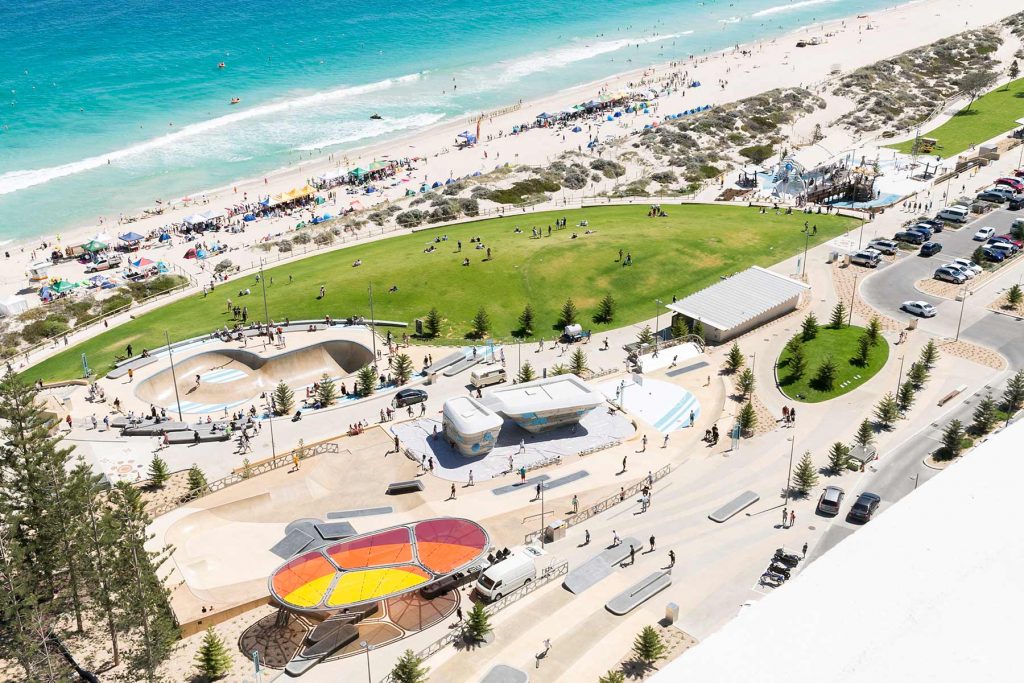 The Scarborough Beach Redevelopment project has provided a new vision for Scarborough and has included a range of foreshore improvements to create a contemporary, family-friendly, all-seasons destination that is welcoming and accessible for all.
Working on an ocean side site with challenging topography, significant improvements to access for people with a disability have been achieved as a result of extensive consultation and innovative design.
The overall design acknowledged the public popularity of this iconic Scarborough precinct and sought access for all community members as a priority.
Construction of wide, barrier free pathways connect the Upper and Lower Promenades, maximising community participation in leisure activities and events staged throughout the development.
Clear shorelines, innovative use of tactually varied surface materials and directional tactile ground surface indicators on principal pedestrian paths of travel, provide a readable shoreline for people who are blind or have limited vision. This promotes effective wayfinding to and from public transport and unique services and leisure features such as the Intergenerational Plaza, Clock Tower, children's playground, amphitheatre, Scarborough Lifesaving Club and Beach Services, Sunset Hill and the beach.
Access Consulting Services
O'Brien Harrop Access worked closely with the design team through all design stages of this extensive project to ensure that access for people of all ages and abilities was considered early in the design and achieved for the Scarborough Foreshore Redevelopment in a manner that was legible, intuitive, equitable and dignified.
On assessment against the intent of the Disability Discrimination Act, the provisions of the Australian Standards on Design for Access and Mobility and relevant transport and landscape resources, all elements applicable to the landscaped environment, and associated public amenities that were required to be achieved in order to satisfy the provision for access for people with a disability, are evident in this now completed public precinct.
Pedestrian accessways have been designed to AS1428.1 2009, inclusive of mandatory furnishings to stairs, walkways and ramps. Careful attention was paid to the design and placement of artwork, the outdoor showers and street furniture, the playground and other recreation and leisure areas to ensure they pose no barrier to people with a disability, promoting a place of inclusion for all.
Civic and Public Infrastructure
Plan Review and Reporting
The now reinvigorated Scarborough Foreshore has re-emerged as a favourite and preferred destination that showcases the beautiful West Australian coastline and offers a vast array of recreational and leisure opportunities to members of the local Perth community and all visitors to this city.
Accessibility features including the provision of accessible parking that close to all key amenities, wide and traversable pedestrian walkways linking all areas and accessible sanitary amenity were incorporated into the design realisation, ensuring that the Scarborough Foreshore remains the iconic seaside destination of choice for all.
Main image supplied by the MRA