Metropolitan Redevelopment Authority
Iredale Pedersen Hook Architects
Lyons Architects
Aspect Studios
A civic space positioned as the new 'heart of Perth'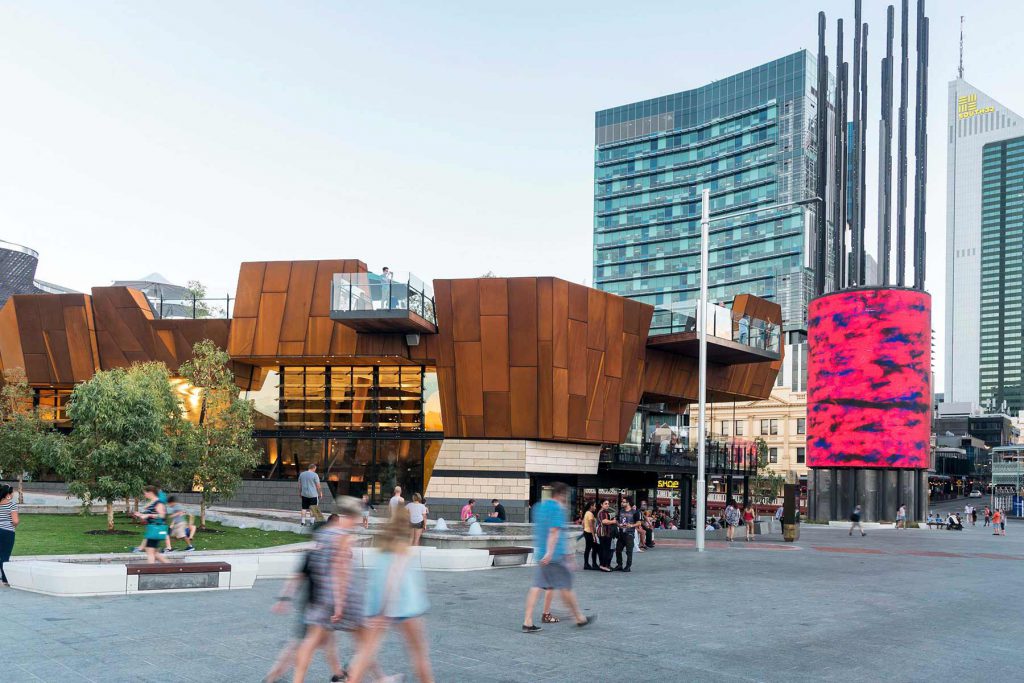 Yagan Square, opened in March 2018, is a civic space positioned as the new 'heart of Perth'.  The 1.1 hectare site, set within the historic Horseshoe Bridge, has been 10 years in the making.
Yagan Square is both a practical transit area, reconnecting Perth's CBD with Northbridge for the first time in over a century, and a drawcard destination. The space offers experiences from play and relaxation, to events, food, digital media, public art and access to the city's public transport hubs.
Access Consulting Services
OHA worked closely with the team of professional consultants to provide advice on developing the plans for Yagan Square. OHA actively participated in the design process alongside Iredale Pedersen Hook Architects, Lyons Architects and Aspect Studios. This was an exciting project that strongly balanced built form, significant art works and extensive landscaping that sits beautifully within the arc of the Horseshoe Bridge.
OHA contributed to the design and compliance process, assessing the developing design against the requirements of the Premises Standards, referenced Australian Standards on Design for Access and Mobility and the intent of the Disability Discrimination Act and Universal Design Principles to ensure equitable and dignified access for all people.
Civic and Public Infrastructure
Disability Access and Inclusion
Plan Review and Reporting
Yagan Square opened to the public in March 2018 and rapidly became a hugely popular destination for locals and visitors alike, attracting over four million visits by the end of December 2018. Accessibility features including gentle grades, access to and seating within the amphitheatre, strong building lines, an inclusive play space and a Changing Places toilet were all incorporated into the design realisation, ensuring that Yagan Square truly is a space for all people.
Images supplied by the Metropolitan Redevelopment Authority.