A Striking Pedestrian Connection Between East Perth and Burswood
Main Roads Western Australia
York Civil
Rizzani de Eccher JV engineers
Swan River, East Perth and Burswood, Western Australia
A prominent and striking landmark bridging the Swan River.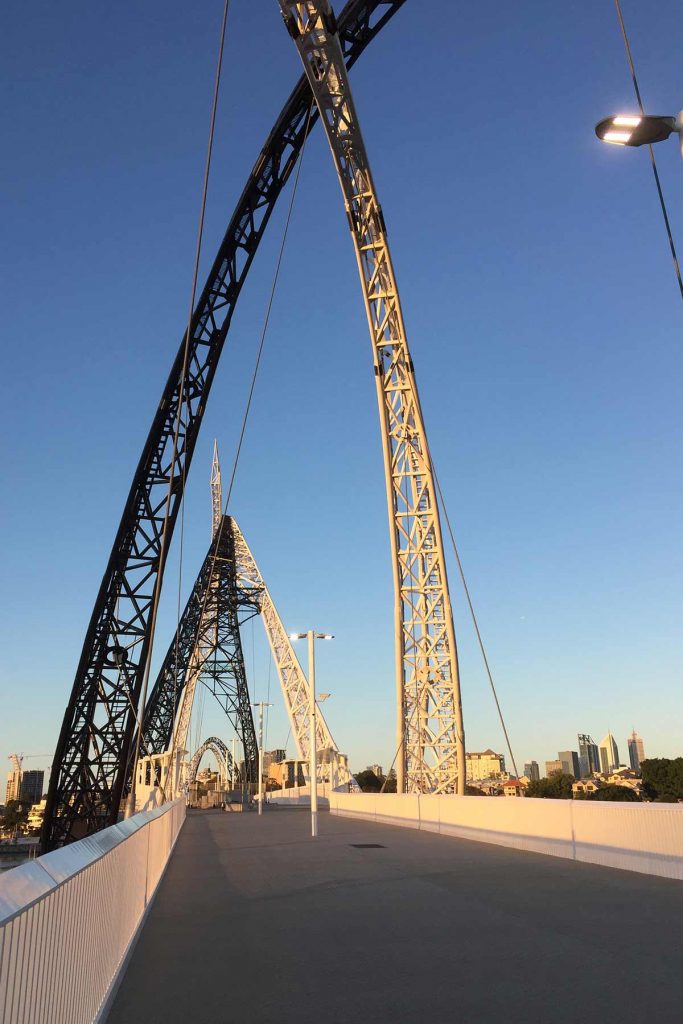 The newly completed and now prominent Swan River landmark, the Matagarup Bridge, provides a striking pedestrian connection between East Perth, Burswood Peninsula and Optus Stadium.
Designed to deliver an alternate and convenient link to and from the Optus Stadium Precinct, the Matagarup bridge joins with the Western Concourse. This meticulously landscaped area spans the riverbank to Nelson Avenue comprising a principal shared path that runs parallel to the river with timber observations decks and seating available to passersby who may wish to pause and take in the spectacular views.
The Matagarup Bridge and the Western Concourse provide a pivotal public transport amenity with the incorporation of Transperth bus stands and bus embayments.
Access Consulting Services
OHA worked with York Civil / Rizzani de Eccher JV engineers to provide information and advice about the landscaping associated with the bridge infrastructure and the bus stands on Nelson Avenue.
As an important pedestrian and public transport precinct, providing proximity to Optus Stadium, OHA worked to ensure the precinct functioned efficiently to ease the movement of pedestrians in a safe and independent way, allowing for rest and viewing over the beautiful Swan River and easy access to event day bus services.
Civic and Public Infrastructure
Disability Access and Inclusion
Plan Review and Reporting
The Matagarup Bridge opened in July 2018. Our first walk across the bridge and onto awaiting buses was on July 17th after the Fremantle Dockers took on Port Adelaide at Optus Stadium.
Design features of the Matagarup Bridge and associated landscaping along the Western Concourse included the achievement of excellent wayfinding and easy to traverse, obstacle free walkways with opportunities for rest and enjoyment. These universal features along with the attainment of good navigation to and onto public transport conveyances were key elements of OHA's engagement.
Between East Perth, the family friendly Swan River foreshore and the Stadium precinct, this bridge, with its expansive arches that resemble flying swans, enables inclusive and enjoyable access for all people.